The Wet Nose of Danger
A Rex Koko, Private Clown Mystery – Book 3

2015 Book of the Year (Nontraditional Fiction), Chicago Writers Association!
"Brilliant! A hysterical throwback to 'whodunnits' told through the voice of a clown who has done and seen it all. Jim has put together another page-turner of mystery and laughs. Perfection!"–Jim O'Heir, Parks and Recreation
"A clown as a PI? Really? James Finn Garner pulls it off with splendid writing, cutting humor, and that requisite of all superb books: a great story. From the first paragraph, you will alternately laugh and cringe at the irresistible exploits of Rex Koko and his size 42 shoes."–Bryan Gruley, the Starvation Lake trilogy
The Wet Nose of Danger yanks our hero out of his comfortable element when he is hired by a high society dame to get to the bottom of a dog-napping epidemic among the pedigrees at the kennel club. Soon he's howling that he shoulda stayed among the kinkers of Top Town, as he's hounded by a shady politician, his joey-jumping wife, runaway freaks, a cross-dressing mob boss, a rogue elephant seal and a silent-but-deadly trafficker in human misery.
A tale to end all tails, The Wet Nose of Danger will send shivers down your spine while it compulsively humps your leg!
Pistols! Palookas! Pampered pooches! As e.e. cummings said, "Damn everything, but the circus!"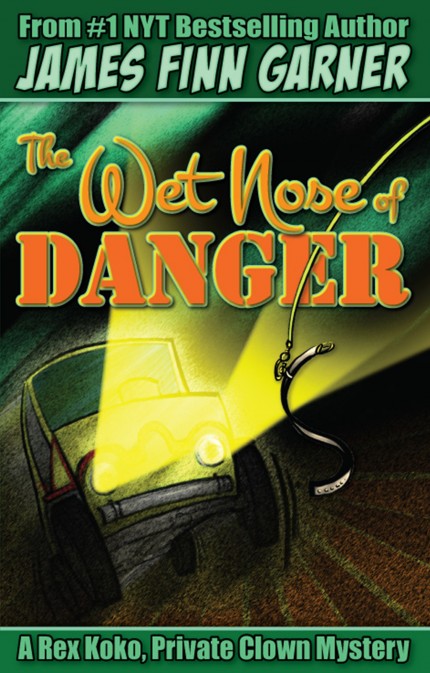 Buy Now
Amazon: http://www.amazon.com/dp/B00O9N48PC
The Book Cellar: http://www.bookcellarinc.com/book/9781502592705
Indie Bound: http://www.indiebound.org/book/9781502592705
Smash Words: https://www.smashwords.com/books/view/483850